Endo Enterprises UK are delighted to announce EndoSan has been shortlisted as a finalist for 'Product of the year' at the Combating Legionella Awards 2016.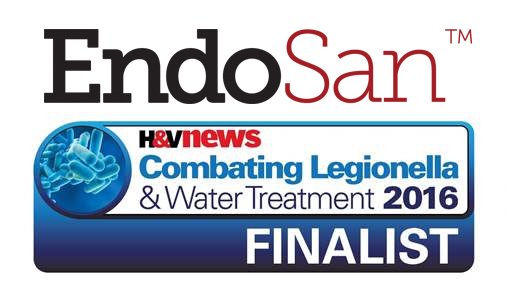 The new and prestigious Awards by H&V News brings to the fore the unsung heroes of the water hygiene industry and sheds some light on some of the most innovative and successful projects on Legionella, Pseudomonas and other waterborne bacteria prevention, control and treatment.
"EndoSan is now rightly being recognised by the leading names in the Water treatment business as a serious alternative to traditional chemistry, such as Chlorination, for water disinfection. This is one of many case studies where EndoSan has successfully removed legionella and biofilm in situations where Chlorine Dioxide has failed. This award has come at an important time where the UK must modernise how it manages its water treatment for Legionella control. We sincerely thank the judges in support of our ground breaking work in promoting constant dosing of EndoSan with the Guardian Doser – It means a lot to our business and all our growing number of partners".

Benjamin Sallon – Managing Director of Endo Enterprises.
H&V judges stated 'The quality of entries were high so being shortlisted is a great achievement'. The winners will be announced at the Combating Legionella Conference on the 22-23 of September at Villa Park in Birmingham.